Diensten
About Extopsporter.nl
Extopsporter.nl is a website for (former) elite athletes. It contains all the information you need during or after your professional sports career, and it can give you a bit of a boost if you're feeling stuck. Read more >> 
Going deep for Vancouver

Going deep for Vancouver is a very personal and candid documentary about former short track speed skater Margriet de Schutter, the road to the Olympic Games and the moment of quitting.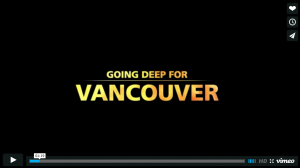 Video productions
Extopsporter.nl can also be hired for video productions. Each week, we take a camera and head out to find fun video items for the TV Portal. If you are an athlete, a sports association, a (sports) club, a (government) institution, a company, a (sports) organisation or a (sports) society, and you are interested in producing a video for your website about, for example, a former elite athlete in your own field, we can take care of it for you.
Our video production team can also be hired for (sports) events, (sports) conferences, matches, etc.
Feel free to contact us for more information.